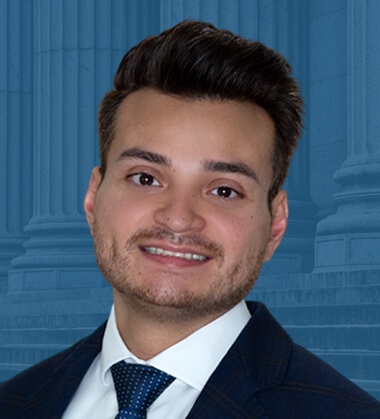 Mark Alonzo is a Florida native, and a graduate of Florida A&M University College of Law where he graduated magna cum laude. He earned his Juris Doctor degree (J.D.) in 2015, and his Bachelors of Applied Science in Public Administration with a minor in Business Administration in 2012.
While earning his J.D. at Florida A&M University College of Law, he earned the distinction of being placed on the Dean's list numerous times, and continued to earn that distinction almost every semester until he graduated.
He has also been awarded the highest-grade distinction (book award) in numerous courses (Contracts I, Civil Procedure II, Estate Administration, Professional Responsibility, Advanced Dignitary Torts, Criminal Procedure, Administrative Law, Florida Bar & Skills). He also received numerous scholarships while in law school, including a Graduate Fellowship Award. After his first year of law school Mark was invited to join the Florida A&M University Law Review. And, while serving as a Senior Staff editor on Law Review, he edited numerous works of scholarship that appeared in highly regarded law journals of national distribution. In addition to Law Review, Mark also earned a position on the Florida A&M University College of Law Mock Trial Team where he competed in two national trial attorney competitions. Ultimately, Mark's efforts during law school earned him the distinction of being ranked first amongst his graduating class.
Prior to joining Vinson Law P.A., Mark was an associate attorney at Tavares & Associates, P.A., where he practiced Transactional Business Law, Business Litigation, and Immigration Law. While at Vinson Law, P.A., Mark has continued to hone his skills in Civil Litigation, Personal Injury, Premises Liability, and Nursing Home Negligence. Mark takes great pride in his work as a Trial Attorney, and the assistance he is able to provide his clients.
When Mark is not busy zealously representing his clients, he spends his free time hiking, whitewater rafting, visiting interesting new places, and working on classic cars.
In 2019, Attorneys Ben and co-counsel Mark Alonzo won a multimillion dollar mesothelioma verdict in downtown Philadelphia, Pennsylvania. With the help of the firm's head Asbestos Paralegal, Lauren Zoons, they were able to receive a 2 million dollar verdict in favor of Mrs. Sylvia Holder, widow of deceased Navy Machinist Mate Mr. Ernest Holder.