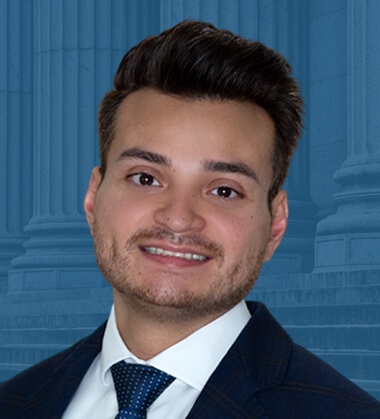 Mark Alonzo has always been a voice of kindness and compassion for those who need it the most. From humble beginnings in Civil Litigation as an Asbestos Litigation Personal Injury, Premises Liability, and Nursing Home Negligence plaintiff's attorney, he has continued his trend of standing against injustice as he continues to represent dozens of clients who have been lied to and taken advantage of by the unfair practices of these asbestos corporate entities.  Mark has a moral obligation to each and every one of his clients to help them obtain the restitution they deserve after everything they have done for the country.
Mark is very detailed and comprehensive in his work, which helps him lead his litigation team. When speaking with clients he likes marking down every detail, in not just their story, but the story that has been hidden from them, by the organizations and companies that have caused them their current misfortunes. Detail-oriented work is not something he is willing to compromise
on, and by taking the time to listen to each client and understand their needs, he has been able to give his clients the best possible outcome for their cases.
Education:
J.D from Florida A & M University College of Law
Magna Cum Laude
Dean's List almost every semester
B.A in Applied Science in Public Admin, minor in Business Admin
Accomplishments:
Highest grade distinction in several courses applied everyday

Contracts I
Civil Procedure II
Estate Administration
Professional Responsibility
Advanced Dignitary Torts
Criminal Procedure
Administrative Law
Florida Bar & Skills

Senior Staff editor for his school's Law Review
Ranked first amongst his graduating class
Multi-million dollar verdict in PA for asbestos related lung disease
He has gone to trial against John Crane in Philadelphia, PA