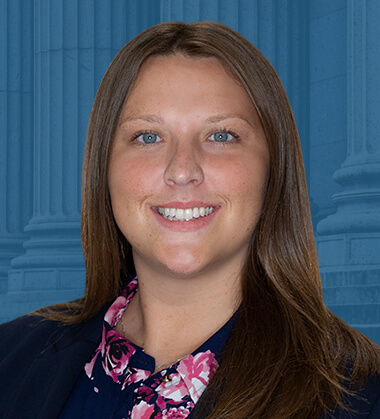 Melissa Inch is a Legal Assistant at Vinson Law P.A., where she supports three of our attorneys in asbestos litigation and personal injury matters. She is a Florida native, who was born and raised in the Tampa Bay Area. Melissa graduated Summa Cum Laude from the University of South Florida in 2016 with a Bachelor of Arts degree in Psychology and a minor in Criminology.
Melissa is passionate about continuing to learn and grow in all aspects of life, personally and professionally. Since graduating, she has earned her Six Sigma Green Belt as well as her Certificate in Lean Six Sigma from Villanova University.
Melissa also has studied Supply Chain Management at Michigan State University, and is currently studying to become a certified paralegal and take the National Association of Legal Assistants (NALA) certification exam. She looks forward to taking more professional development courses in the near future.
When she is not spending time with family or visiting her nephews and niece in the Carolinas, in her free time Melissa enjoys photography, traveling new places, playing soccer, going to the beach, and cheering on the USF Bulls in Football.